"We are multi-dimensional Beings on a Life journey of healing and Being whole."
– Esperanza Smith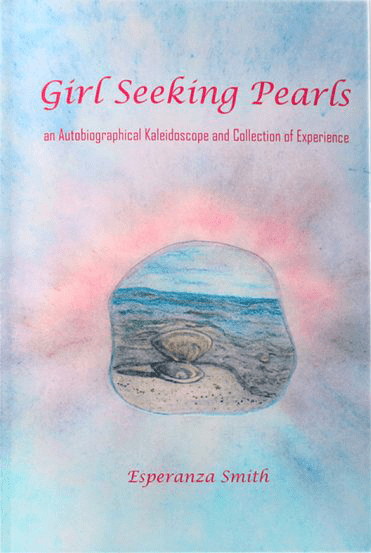 Girl Seeking Pearls
Girl Seeking Pearls: A transformational story of a hero's mythic journey that entails an array of relationships of childhood, adolescence, adulthood, marriage, parenting, romance, adventure, tragedy, triumph, and above all, universal lessons of the soul that bring us to a better understanding of the power that we possess to create our lives as we come into alignment with our Presence and inner guiding Wisdom.
All proceeds go to benefit & support the Consciousness Movement, holistic well-being, and education for all through our non-profit organization, PureEsperanza, NFP,  its services, resources, and products. This is the first self-published and self-illustrated book published by PureEsperanza, NFP.
"Born of humble, industrious, immigrant parents, Esperanza Smith offers a meditation on motherhood, family, and community. As a young child, she learned how to navigate and thrive in a world unfriendly to her and the color of her skin. As an adult, Esperanza overcame heartbreak and learned to trust again. An inspiration to all those struggling to re-create a new way of living, Esperanza shares her story and triumph as she begins life anew at the midpoint. She is an inspiration to all learning how to make it work against all odds. Esperanza is a rare treasure."
"Girl Seeking Pearls captures the essence of what it feels like to be a seeker. As I read about the life of the main character, I couldn't help but reflect on my own life and wonder about the pearls that I have collected and that I might be collecting right in this very moment. The concept of the pearl really resonated with me: something beautiful that requires a bit of a deep dive and is so precious once you know what you are holding. The story is told with such raw vulnerability revealing insecurities and fears that we can all connect with and that help us feel a little less alone on our seeking journey. I also appreciated the insightful, compassionate way that the main character (and author) considered the motives behind the behaviors of others in the book, presenting a holistic, human approach to each complex person who touched her life."
"Very inspirational! At times I find myself getting bitter or finding the negativity out of a situation, rather than the obvious. These are the times when I need a reminder how great and short life really is! Thank you for that!"
If you are ready to empower yourself, chart a new map, create your destiny, and live a purposeful life, connect with me here. Let me know what services interest you in the form below. If you know what services you want and would like to set up an intro and consult meeting, please fill out the form below. I look forward to serving you.